Offshore UK - Southern North Sea
Zechstein Carbonate Licences - P2300, P2329, P2427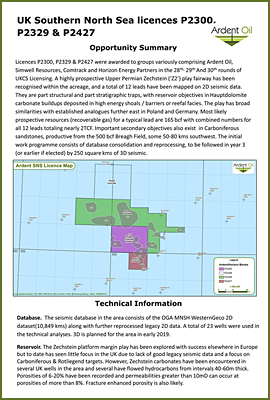 Licences P2329, P2300 and P2427 form Ardent key Southern North Sea/Mid North Sea High Zechstein Carbonate Acreage. Ardent Oil and its partners Horizon Energy partners and Simwell Resources, have identified a highly prospective Reefal build-ups deposited in high energy shoals / barriers with Reefal facies and talus slopes. The licences also have deeper secondary Carboniferous Targets.
The Zechstein play is part stratigraphic and part structural carbonate build-up play that has broad similarities with established analogues further eastwards along the southern margin of the trans-European Zechstein basin in Poland and Germany. Locally analogues to the play have been observed in wells that target Carboniferous structures and encounter heavy losses and shows within the Zechstein carbonates of the Haupt and Platen Dolomites. Onshore UK the formation can be seen outcrop.
A multitude of leads and plays have been mapped on the licenses and we are currently planning a 3D to mature these to a drill ready status.